Discussion Starter
•
#1
•
I recently purchased a Trijicon TriPower for my SOC16, so a friend of mine, Sean, and I headed down to the range, I wanted to sight in my TriPower and he wasnted to sight in his Leupy Scope on his Standard M1A.
The Weather was BEAUTIFUL last sunday, it was warm but not too hot, gentle breeze helped with that. Full sun and a few whisps of clouds, just made for a perfect range day.
A quick note on the TriPower, its a great red dot. The Chevron looks great, crisp and clear. I walked around my house with it on, lights off and the Tritium made the Chevron glow nicely. With the addition of the Trititium in the front sight it makes for a nice reference point. In full light the Fiber Optics are great, the Chevron shows up clear and bright.
The only issue I had, the TriPower shot VERY high at first, but after a lil plinking and Kentucky windage, we managed to diagnose the issue and hit paper soon enough, then it was all fine tuning from there. Our targets were tiny, we were using the standard M16 Zeroing Targets, the 25m at 50m. Just to get on paper. Not having nearly the ammount of time behind the trigger as I would like in the standing position, I understand that I will be shooting MoH/F (Minute of Hadjii/Felon), but was overall happy with the results.
My Buddy had 2 issues, his first 3 rounds were FTE and a loose scope mount. Because of reading this forum so much I was able to help him diagnose his loose gas plug almost immeadiately. After every 3 or 4 shots he had to tighten the mount, but some Lok-Tite should help that out a bit.
We were both using a mix of German and Paki ammo.
I dont always setup the range table so neat, but there were a few people learning how to shoot .22's on the line, so not to scare them away the the LOUD booms of the 308s we waited paitently for awhile. But here goes the test, a couple range photos:
The Kit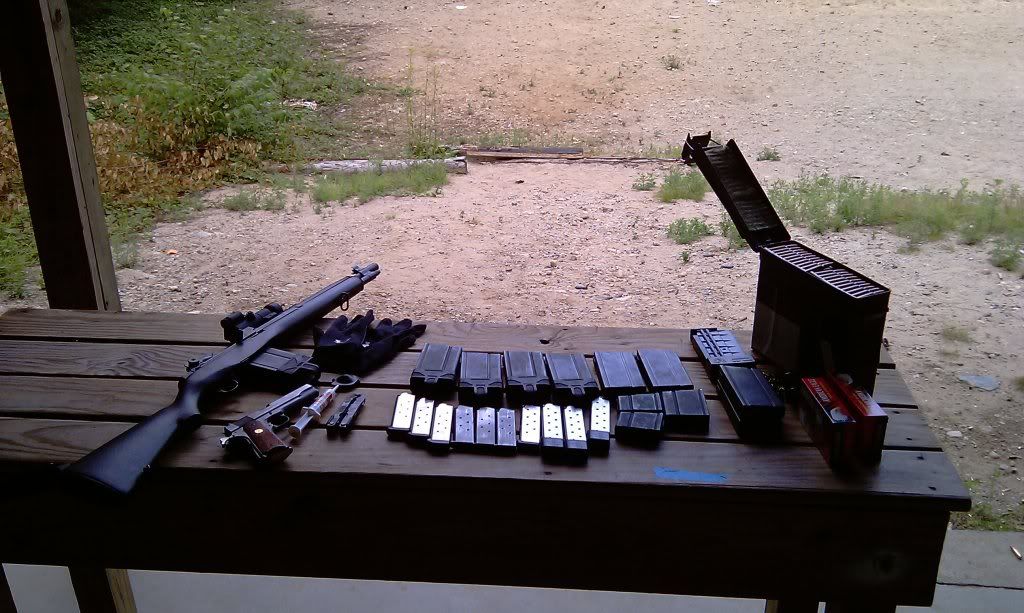 The Kit plus Targets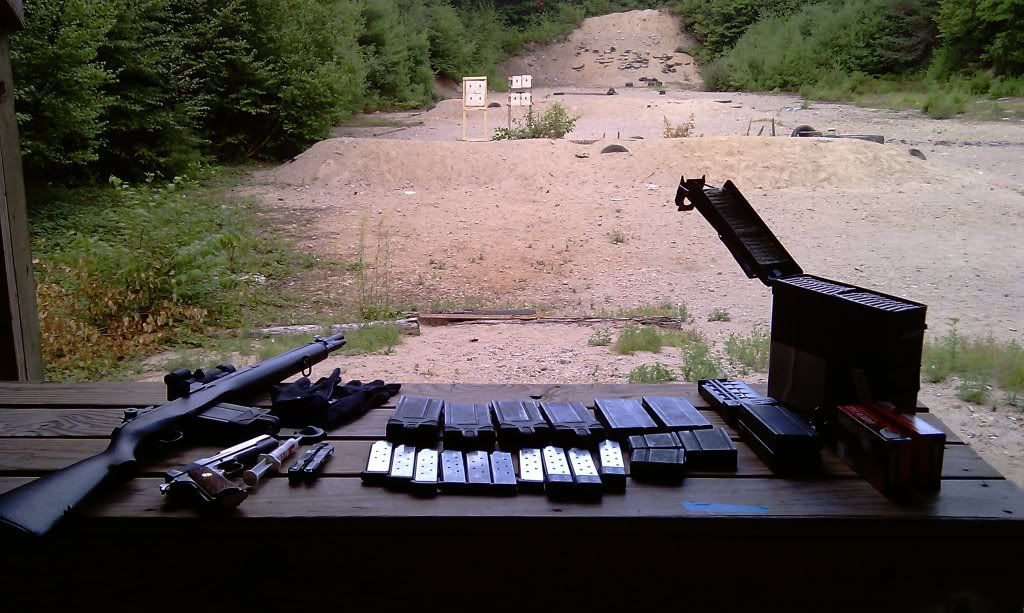 Dialing it in
Shooting Minute of Hadjii/Felon
Great day, now gotta find more trigger time!!!!!!! GI6