Discussion Starter
·
#1
·
Over the weekend, I messed up really bad. I was fulfilling my American duty by taking some new, gun-shy neighbors out for a proper firearms introduction. Amidst gun safety, proper handling, and accuracy lessons I brought out my M4 clone to show them my SilencerCO "Specwar 556" suppressor. This gun is my baby - 14.5" barrel, ACOG, Knight's Armament rail, PEQ-15 - just my like service rifle. Like all AR newbies, they, as I grimaced, dumped two mags in a few minutes in the time I usually do in two or three range trips. I have a very hard time "sharing" my firearms with others - either due to my disapproval of their ignorance, their lack of monetary and historical appreciation, or the like-thoughts of sharing a woman with someone. Maybe all three.
They then asked about how easily it was to remove the suppressor. I picked up a glove, (it was VERY hot) and my good sense told me to wait until it cooled down. I took it off anyway to demonstrate and then re-mounted it, burning my hand pretty good in the process through the glove. Still bothered as to why I was so annoyed at people other than me shooting my sweetheart, I then messed up.
Somehow, I'll blame the distraction from the hot can and my own stupidity, I didn't have the suppressor locked on completely. I set it aside to continue cooling off. About 20 minutes later, I picked it up to shoot a few more rounds. As I looked through the ACOG and squeezed off the shot I felt a more than usual recoil. My eye-pro saved me from a good scope check. A little embarrassed, I lowered the rifle to see if anyone had been watching. I then noticed the un-suppressed muzzle. Hmm, I thought. I must just not be used to shooting un-suppressed. (It HAD been awhile.) As I turned to go back the the tailgate to mount the suppressor I resisted my brain telling myself, "You know you had that suppressor already mounted..."
I half-heartedly looked on the tailgate and my bag for the recently-paroled toy. I finally forced myself to look down range and saw the suppressor laying about 25 feet in front of the firing line. I picked it up in despair and winced at the newly elongated hole in the end cap. I actually laughed, shaking my head and cussing myself dutifully. With a sigh, I went back the the tail gate to inspect the Trifecta mount for damage and to peer into the suppressor to inspect the damage. I could see no damage on the mount, meaning I had definitely been at fault for not getting it threaded down. I could see the foremost one or two baffles damaged inside the can.
After verifying there being no obstructions and positive concentricity after mounting it properly, I walked back to the firing line. Yes, maybe I am a delta-alpha, but I took aim and squeezed off a shot. I may or may not have had my eyes closed, wincing, as I pulled the trigger. Smooth and suppressed. I even told myself that it didn't seem any louder than before ha. Talk about denial. Upon inspection, the locking mechanism that maintains the fully-threaded position with the mount wasn't working. When in the locked position, I could, with force, begin to un-thread the can. As much as I wanted to tell myself that it came loose due to a malfunctioning lock ring I knew very well that my own stupidity was the only thing to blame. Much like "slow is smooth and smooth is fast," "fast is sloppy and sloppy is heart-wrenching."
I concluded that in my rush to mount the hot can, I somehow didn't thread it on, locking it into no position at all. The lock was damaged at the time of the baffle strike.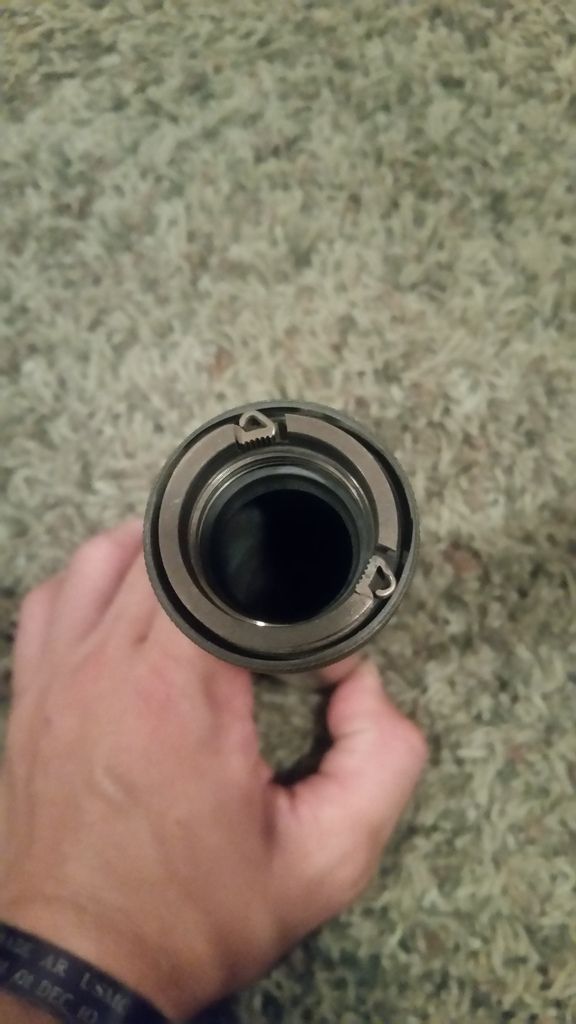 Anyway, as soon as I was on the road, I called my buddy who used to work at SilencerCo. I sheepishly told him of my stupidity and sent him a couple of pictures. He informed me that they'd probably just fix it for free and that if the serialized tube wasn't damaged I wouldn't have to think of the acronym N-F-A during the process. He contacted his buddy with R&D at SilencerCO and verified all. SilencerCO's headquarters are about 20 minutes from my house. His buddy said to email customer service about the issue and then swing it by for repair. He added that he'd give me a tour of the facility when I arrived.
I emailed CS Sunday night telling them what had happened and asking what I need to do to get it fixed. They responded around 8 AM Monday morning and said to drop it off ASAP and that they would repair it. I coordinated my drop off with my friend's contact there and met him this morning. He led me to customer service and I handed my suppressor to same person who had been emailing me. He said they'd get right on it. My buddy's friend then took me on a tour of the whole facility.
I am now waiting to find out what the story is. I've heard that SilencerCo is very loose on their Lifetime Warranty being only if there is a manufacturing defect or failure and that they often repair obvious user error damage (mine) at no charge. Their policy states that if the damage cannot be repaired and is not under warranty they will replace the suppressor at a 75% discount. I am anxiously waiting to hear the damages, and although I deserve to and am ready to pay for my mess up, I think I might get off lucky. Everything I have experienced so far from SilencerCO has been really simple and pleasant.
I will report back as soon as I hear anything. Meanwhile, I'm an NSF again.