Discussion Starter
·
#1
·
Gentlemen,
I have a SAI M1A Loaded in a Walnut stock, with an older SEI mount, Leupold QRW rings, and a Nikon Bushmaster 4.5-14x40 scope on top. Over the past couple of months, I have been working on properly relieving the stock channel so that it no longer interfered with the OP rod, and also machined the scope mount to better interface with the side of the receiver. I also mounted a 6-9" swiveling Harris bipod. I took it out yesterday to do some practice. At 400 yards, it seemed a bit off from what I normally DOPE at. I decided to bring the scope back to my 100yd zero and put some rounds on paper. Here are the four 5-shot groups I made, shooting from prone off the bipod with my custom handloads.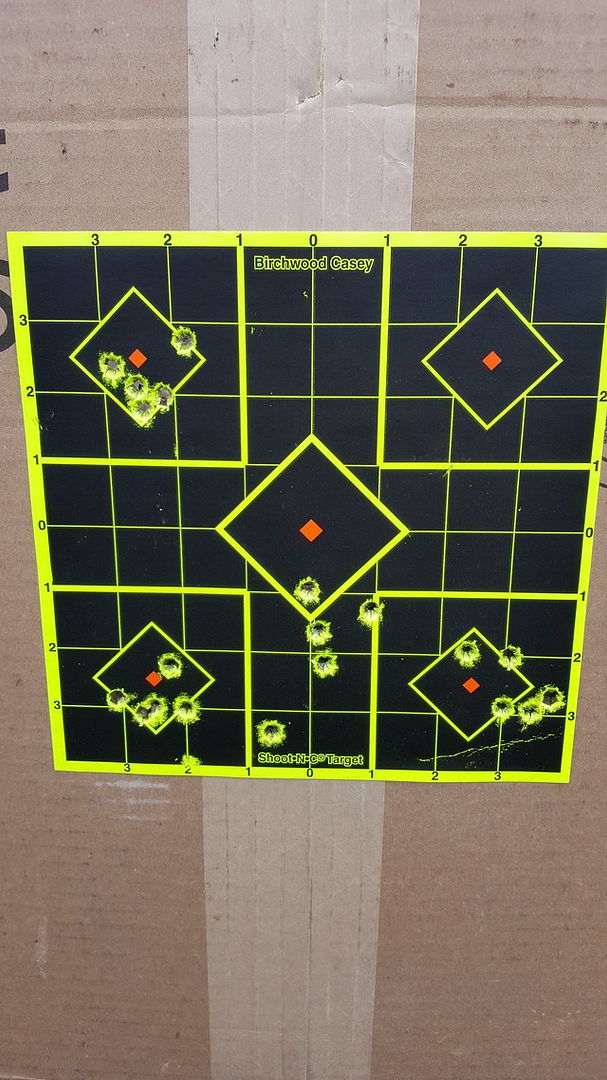 1st group (spread was worse because I was still calming down from the walk back from the targets). Notice how it is a good 2" low from the red diamond that I was aiming at. This should have been on center, as I've changed nothing about the rifle's set-up since last time I zeroed at 100 yards.
2nd group after a slight elevation adjustment. I was nice and calm now; much less noticeable jump from my heart. Still shooting a bit right, but then I noticed I had not taken my windage back to zero.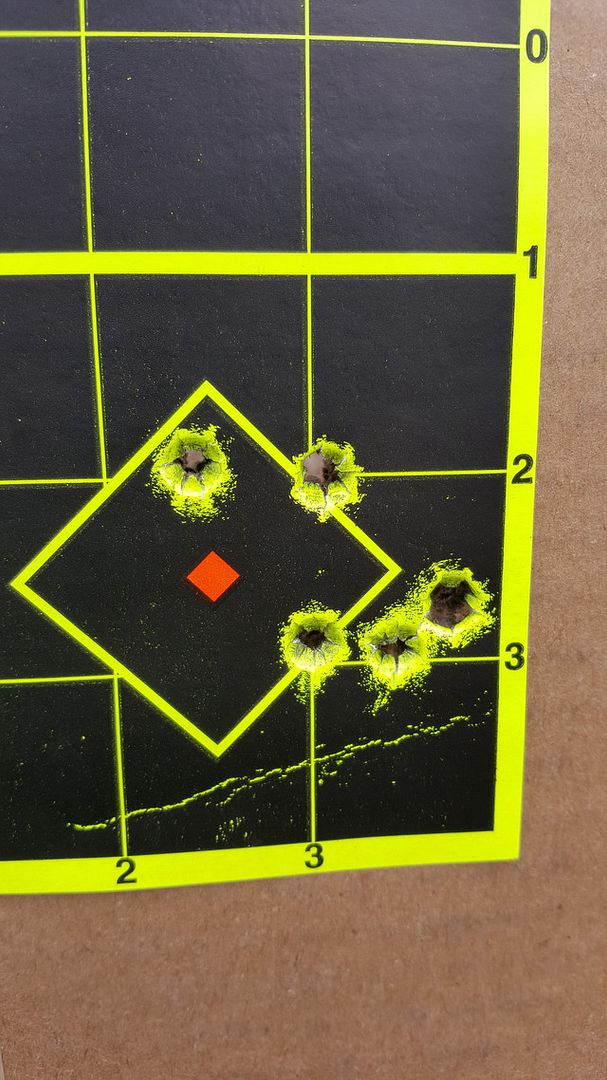 These were my next 2 groups. I shot 2 because I wanted to make sure my rifle wasn't losing zero from recoil. Pretty happy with how tight this thing is patterning.
So. The rifle is back to zero. I get my knobs all sorted out on the scope, and bring her back out to a 400 yard DOPE. Sure enough, it is just a tad off from what it was only minutes earlier. I get her dialed in, and just for shiggles, I decide to put down one more 100yd group. After these 5 rounds, I decided it was time to pack up and leave, as I was getting frustrated.
Same distance, same ammo, same shooter, same zero. I am thinking this scope is just not repeating. I know that shooting with a bipod is not straight forward, but I think my group size will attest that I am at least doing SOMETHING right. If the scope is to blame, would I be better off learning how to use the mil dots as hold-overs, and leaving the turrets at zero? Or just getting a higher quality scope? Can anyone come up with a different possible culprit?