Discussion Starter
·
#1
·
Picked up a nice used poly stock w/handguard this past weekend at a local gunshow, turd brown with someone's weak attempt at a tiger strip pattern. Decided to redo the camo. Stopped off at WallyWorld, picked up some "fusion" in sand, brown, and Olive, some new Xacto blades and a roll of blue painters tape.
I served in the Marines back in the early '80s, wanted a pattern similiar to that seen on the USMC M14's. Worked out the pattern using pics of some McMillon and other stocks. Slight variation on the colors with flat black upper handguard - closer to my liking. Pictures stink, sorry - will try to get some better ones loaded.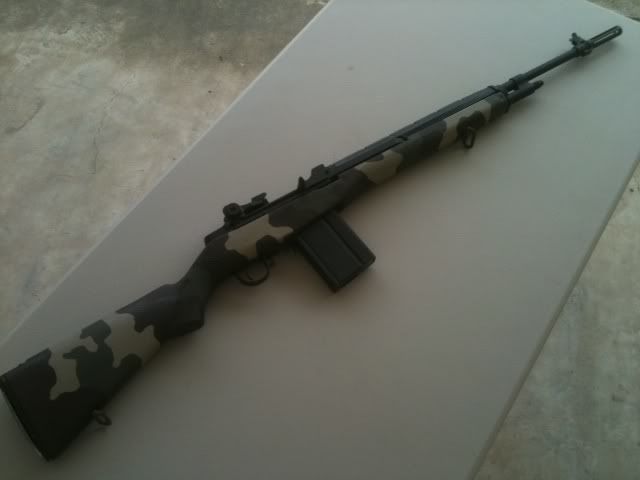 I'm very pleased with the end result - colors are great, topped with 3 coats of clear matte. When I got it all back together, it was like shaking hands with an old friend. Sounds kinda sappy I know, but as much as I like the slightly oversized wood stocks - I love the feel of the slimer profile stocks. BTW - this M1A was a gift from my wife (she's a keeper).
Scope/mount go on next along with reinforcement for the Harris bipod/sling swivel. Will get some better pics posted when complete.
LMK your comments.
USMC-1