Discussion Starter
·
#1
·
I've noticed that a few months ago, I was able to pull off some awesome groups with my 125gr Speer load. Since that time, I don't think I've been able to get the groups back to where they were. I decided to try an experiment. I got a batch of 50 cases that were matched by weight and all Winchester brass from roughly the same time period. When I sorted them over a year ago, they were all within 1 grain of each other. This batch has been fired 4 times.
The barrel hadn't been cleaned in about 80 rounds and I shot 10 today to warm up the rifle. So at the end of the day, it's been about 140 rounds since the barrel was cleaned.
I randomly picked 25 cases and I annealed them with a Bernz-O-Matic. I did some research during the process...
http://forum.accurateshooter.com/index.php?topic=3848611.0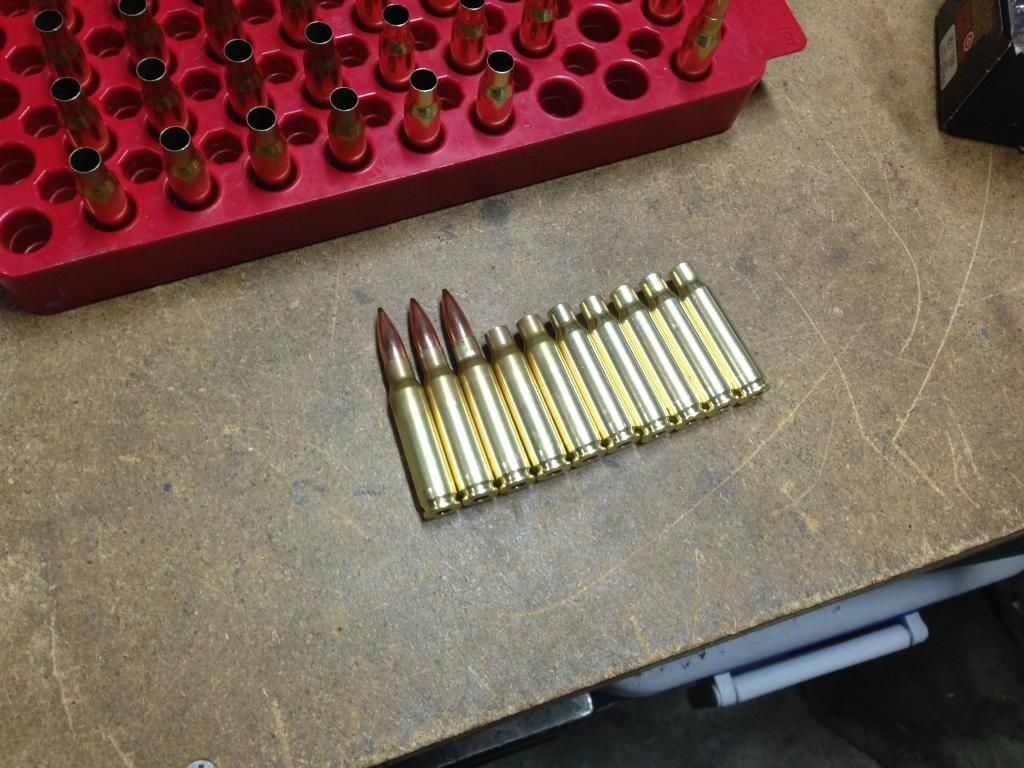 I loaded up the whole batch of 50 cases with 45 grains of IMR-4895 and Speer 125's. I shot ten 5-shot groups, alternating shooting groups between annealed and non-annealed so as to see if fouling and barrel heat would affect the groups identically or not. It took about an hour and a half to shoot all 50 cases.
All groups were shot off the bench at 100 yards, sand bagged and scoped (you've all seen the pics before).
I had one flyer that I called on the third group of the annealed batch. For consistency sake, I'll omit the flyer. I knew I pulled it to the right when the shot broke, confirmed with my spotting scope.
I also made scope adjustments after the first and third group of the annealed sets, so that explains the POI shift.
Group sizes are as follows for annealed set:
Group 1: 1.158"
Group 2: 1.406"
Group 3: 1.047" (flyer omitted). With the flyer, the group was 2.110"
Group 4: 1.297"
Group 5: 1.383"
Average group size:1.2582"
Max/Min Spread: 0.359"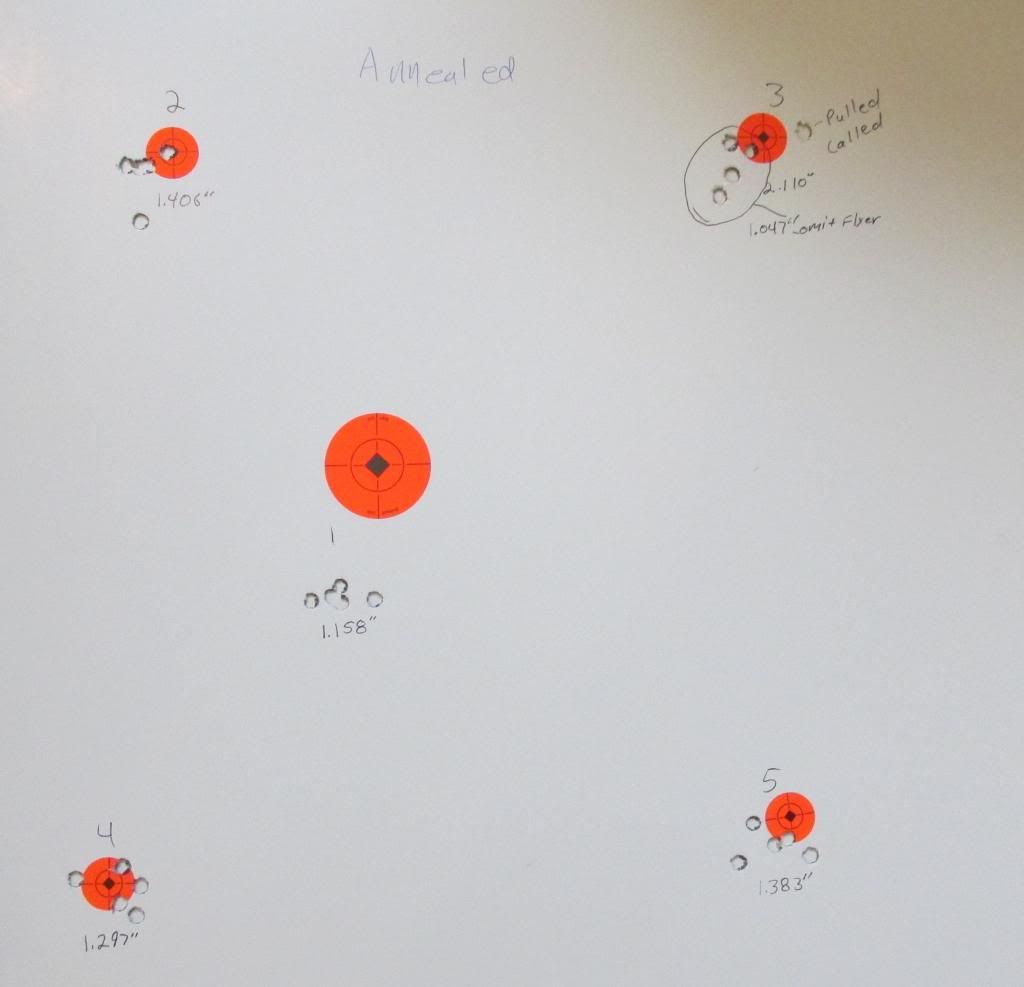 Group sizes are as follows for un-annealed set:
Group 1: 1.489"
Group 2: 1.864"
Group 3: 0.935"
Group 4: 1.039"
Group 5: 1.614"
Average group size: 1.3882"
Max/Min Spread: 0.929"
Total 10-group average: 1.3232"
My annealed groups seem to be more consistent than the un-annealed groups and I like the max/min spread difference. I think I'm going to try annealing my brass between reloadings for a while to see what happens. After today's trip, the cases have been fired 5 times but maybe only half that with the gas on. I'm going to run these a few more times with the gas off and see what happens.
I also think my bedding might be wearing out. It's been 19 months since I bedded it and maybe 1000 rounds since then. It may be time for a skim-bed.
Just thought I'd share in hopes that some might find this interesting.
Tony.