Discussion Starter
·
#1
·
Each set includes
2 each
of all six sizes required to assemble an M1A or other semi-auto M14 clone.
Price per set of 12 pins is $5.00.
USPS First Class Shipping is
included
.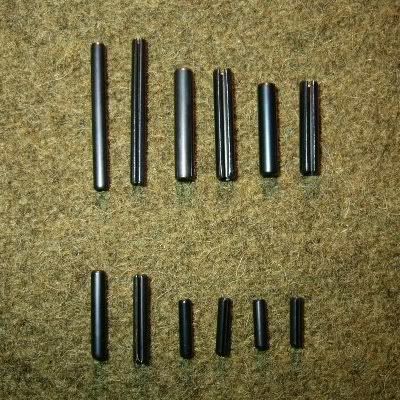 2 ea. Bolt Stop Pin
2 ea. Operating-Rod Guide Pin
2 ea. Magazine Catch Pin
2 ea. Cartridge Clip Guide Pin
2 ea. Spindle Valve Pin
2 ea. Connector Lock Retaining Pin
***25 Sets Available: 2-26-11. These are stored separately from the ones I have posted elsewhere, and are set aside to ensure that all are available if spoken for and sold here.
Having two of each pin allows you to have a full spares set once your rifle is assembled, or to have a backup in case you damage one while assembling your rifle.
Cash, Personal Checks, Bank Checks, and Money Orders are all gladly accepted (Can also do PayPal for an extra 50-cents). Please PM me here to reserve number of sets needed, and for payment info.
Thanks for looking, Mike
PS. Due to new web filtering software at work, I can no longer check in from there during breaks throughout the day on weekdays. If you reply to this post or send me a PM during normal working hours M-F I will get back to you that evening. Thanks again, Mike
Additional Information on Materials:

The roll pins in these sets are new production and are made in the USA by a company that has been in business since 1912.

They are manufactured to conform to ANSI/ASME B 18.8.2 and are made of hardened (Rockwell Hardness RC43-52) carbon spring steel.

The double sheer strengh of the smallest (5/64" diameter) pins is rated at 800lb., while the larger (1/8" diameter) pins are rated at 1,875 lbs.

You cannot buy these pins in all the correct sizes for an M14 / M1A from a hardware store!

Incidentally, ... these are the exact same pins that you would recieve if you bought the set of 12 from "A Very Well-Known M14 Parts Supplier" for $20.00 including shipping ($1.00 per pin + $8.00 Shipping).