I have always preferred my M14 rifles to be shorties. I have been happily throwing M14 type rifles into the chop saw for decades, ever since I saw an ad for the Springfield M1A Squad Scout. A shortened version of the M14 made so much sense to me as a versatile, adaptable, effective solution to finding that elusive "ONE RIFLE ", capable OF PERFORMING CQB well, DOMINATING MID RANGE PROBLEMS, and still with some LONG RANGE ABILITY. But unfortunately the SAI Scout version came with an 18" barrel, which was ½" shorter than legally allowed by Canadian Firearms regulations.
NO PROBLEM!!
I had a beat up M1A 22" barreled standard that had been shot with CORROSIVE ammo and stored away for a few years …without cleaning. The
NON-chrome lined
bore looked like a water pipe, with very little of the rifling left. So, with nothing to lose, I pulled that barrel, chucked it in the lathe, and cut and crowned it to 18 ¾". As we Canuck's say,
"VOILA"
- I now had my very own
Canadian LEGAL
shortened M1A. Totally Reliable, and amazingly, even with that washed out bore, it still shot about 2" groups with IVI 7.62 NATO BALL ammo.
So, I started out torturing and traumatizing the M14 rifles to rebuild them EXACTLY the way I wanted them - Shorter, Lighter, better than they were before, and quite often, I added pistol grip stocks and side folders. And the Canadian shooters LOVED these shorty M14s. Over the decades I have personally owned well over 100 of the M14 rifles, and almost all of them were transformed into shorties. In fact, here in Canuckistan, I am probably the person who started the M14 shorty movement, and inspired the Chinese FACTORY BUILT, BRAND NEW shorty M14 rifles we Canucks can buy today. By my best guess, about half the new Chinese M14 rifles sold are now these shortified versions.
Like I said, I have always preferred my M14 rifles to be shorties. And when FRANK, head honcho of M14.CA, and I started out to build the best M14
Enhanced Battle Rifle
available, we both saw the short barreled M14 rifles as the foundation for our modernization program of modular /scalable M14 platform modifications. The
BLACKFEATHER
stock
SYSTEM
is the end result of our dream for the ultimate M14 EBR. And the Blackfeather SYSTEM is still evolving. I see it as the Ultimate
"HEAVY METAL"
solution to BOTH CQB and MID-range problems, with some ability to be productive at long ranges as well. If you are contemplating ONE RIFLE to suit ALL tactical scenarios, you might consider the BLACKFEATHER modded M14 as a serious contender.
My personal vision for the Blackfeather, right from the very beginning, has always been with a
LONNnnnng SINGLE PLANE combination handguard/scope mount.
But this particular part of the system turned out to be a long time in coming. We wanted to get it JUST RIGHT, and I think we are almost there. Here are some pictures of the
PRE-production prototype
we took out yesterday for range testing. It performed perfectly, and Frank is going to bring this to production fairly soon.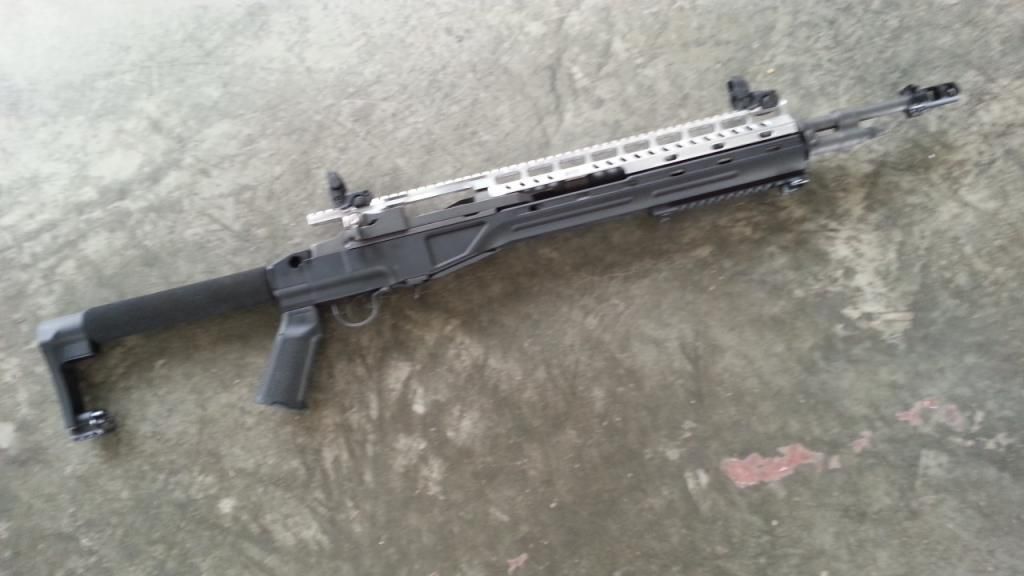 BUT,
As usual,
M14.CA likes to get customer feed back from the potential users BEFORE we set the product in stone.[ or in this case, finalize the programming for the multi table CNC machine].
SO,
How many people out there like the design as is?
What about adding a "sexy" 45 degree angle to the front of the rail?
Who sees this rail as a valid improvement for CQB use of the SHORTYM14?
Who views the rail as useful for something else than CQB, as in they would buy it to install on a 22" barreled M14?
Your comments will be gratefully accepted and seriously considered,
NOTE:
at this time, the LONNnnnng railed Handguard will fit ONLY standard barrels.
PS:
Now if only I could talk him into my other favorite item, a dedicated SIDE FOLDER butt stock, then my dream of the purrrrfect M14 rifle might finally have arrived.
Lazerus2000,
[