Here are some pics and info about the KAC M14 RAS that will hopefully clear up some questions people have.
I bought the RAS planning on using a standard scope with two scope rings, have the ability to mount an M68, use iron sights when the scope isn't attached, and be able to mount accessories on the side rails. The KAC product is good if you are planning on this. If you want to use an ACOG, have a continuous upper rail, or only use a forward mounted optic, this rail system isn't for you. Here is a picture from Knight's Armament of a M14 RAS with accessories installed:

The RAS is sold either as the front section only (P/N 22121-1) or with a stripper clip guide slot mounted rail section (P/N 22121). It will only attach to standard contour barrels. It
may
fit a medium or heavy barrel with a little gunsmithing. It will attach to any standard stock, even the heavy McMillan M1A. However, with a heavy stock, accessories may or may not be able to be attached to the side rails. The KAC M14 RAS is not compatible with LRB M25 receivers. In "Call Of Duty 4" and in a picture of a US soldier, the KAC RAS is used in conjunction with a standard scope mount. This is only possible with heavy modification and may make the mount less secure. According to the Knight's Armament webiste, it weighs 13 oz. If you add rail covers it will most likely add more weight. It retails for $400-$550. Make sure you get it from a reputable dealer because there are a lot of fakes out there. To see the basic rail set, go here:
http://www.knightarmco.com/mod_weapons_1.htm
It mounts on the rifle with a screw that mounts to a steel adapter that installs into the handguard clip slots, a screw in the receiver's scope mount hole, and a spring clip that holds the front down to the barrel under the front band (just like the M16/M4 RAS and RIS from KAC). The rear rail section has an adapter that is attached to the receiver with a roll pin and is adjustable for elevation with a torx screw. Here is a picture of where it mounts:
The front rail section is very secure, even though it doesn't look like it. A forward mounted optic or day/night laser would hold their zeros well. The rear scope guide section isn't as sturdy. The adapter piece that installs in the groove on the receiver is not a tight fit. I could "jiggle" the piece with a scope ring installed. A scope mounted to it would probably be "minute of man", but it was too loose for me. I designed a new adapter for the rear rail section and had a machinist make it. My designed part has much better tolerances than the KAC part and is secured by two set screws instead of a roll pin. I am able to adjust the rear scope rail left and right to adjust for zero. Here is a picture of the new adapter with the rail attached and mounted to the rifle: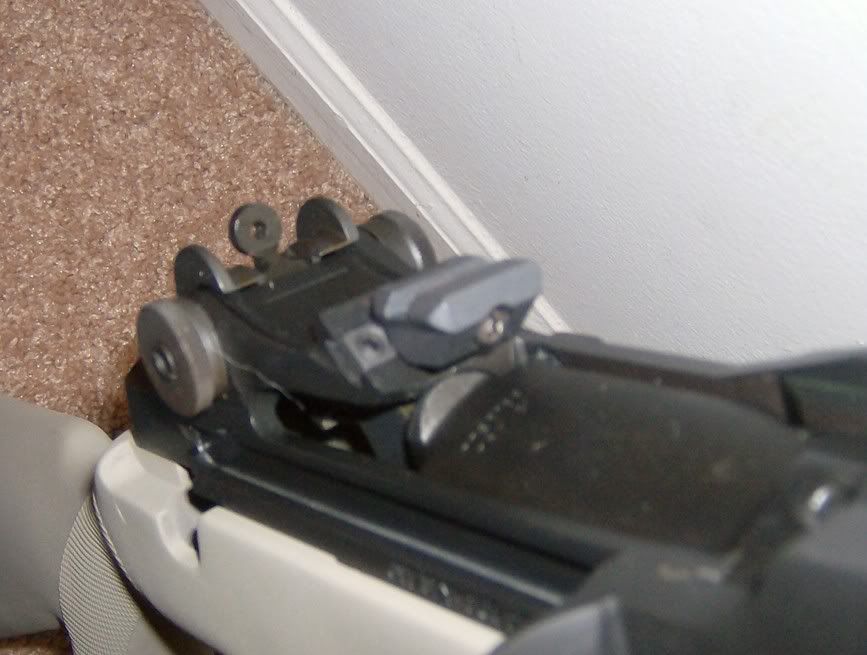 I have seen many people with their scopes mounted to the rear rail section and never heard any complaints. Maybe my part was out of spec and others are a better fit, I don't know. You can still mount a traditional scope without the rear rail section if you purchase a cantilever scope mount and mount it facing to the rear.
I chose to use rail covers on mine to have a more user friendly grip. I don't like exposed rail sections on any of my rifles. There are clip slots half way down the RAS and at the end of the RAS to hold them in place. It only comes with 2 black 11 rib rail covers, but you can get more in various sizes for $3-$25 depending on size and color. If you want full size rail covers to cover the rear half of the RAS, you need to take out a Dremel and relieve some material on the underside of the panels. If you want to use Ergo rail covers of ladder rail covers, they will only work on the very front portion of the rail. Here are some pics of my RAS installed (still waiting on the rear rail section):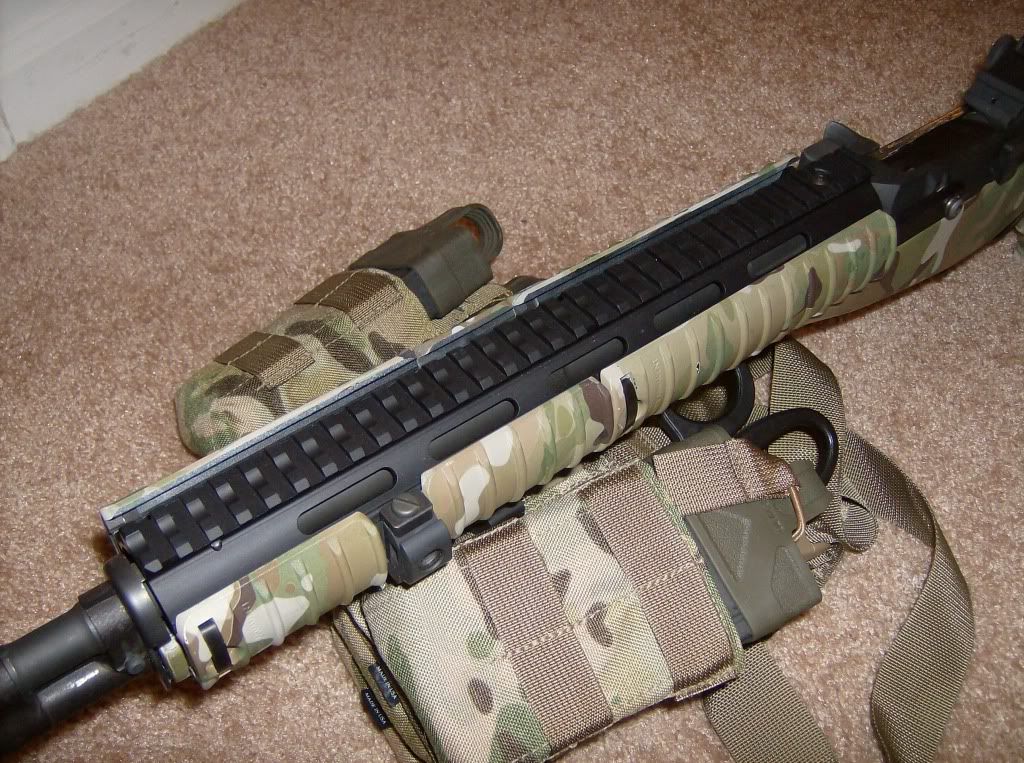 http://s279.photobucket.com/albums/kk148/pezboytate/Firearms/?action=view&current=HPIM2268.jpg
http://s279.photobucket.com/albums/kk148/pezboytate/Firearms/?action=view&current=HPIM2265.jpg
If you would like a .pdf with installation instructions and more pics of the RAS disassembled and assembled, PM me.
Also, If anyone else has a KAC M14 RAS and wants to post their experience with it, please do so.
Dustin