Discussion Starter
·
#1
·
Well, I got some of the coolest news ever today. I stopped by to see my Lt. at our operations office today to get some ammo for an upcoming CQB class I am taking. While I was talking with him, he opened the vault door where we keep our ammo and I noticed the flash hider of a few M1A's in the corner of the room. They were blocked by some other rifles (AR's, Shotguns, etc.) so I asked my Lt., "Hey are those M1A's over there?" He looked over and said "No, those are M14's" with a sh*t eating grin on his face. of course you can imagine where the conversation went and long story short, I found out our agency owns 4 of them and they are all different manufacturers. The one I got to play with was an H&R with TRW parts..probably a rebuild. but never the less, four fully functional, beautiful conditioned, fully auto M14s. Today was one of the best days ever....but it gets even better.
My Lt. knows that I have an infatuation with M1A's and M14's as he is also an owner of a Socom II. I guess since they were hidden in the corner, he never thought to tell me about them. When I asked, he said that our agency bought them under some federal contract and that they were for agency use....then he looked at me and said "So, you want to shoot these babies on the next agency range day?" - DUH LT! Of course I do...
So here in the next month or so I will get to take these pretty babies out for some training. I cant freakin' wait! Here are two quick pictures I snapped before he kicked me out of his office...I tried to hide this one under my shirt, but he totally caught on to me before exited the office...damn it!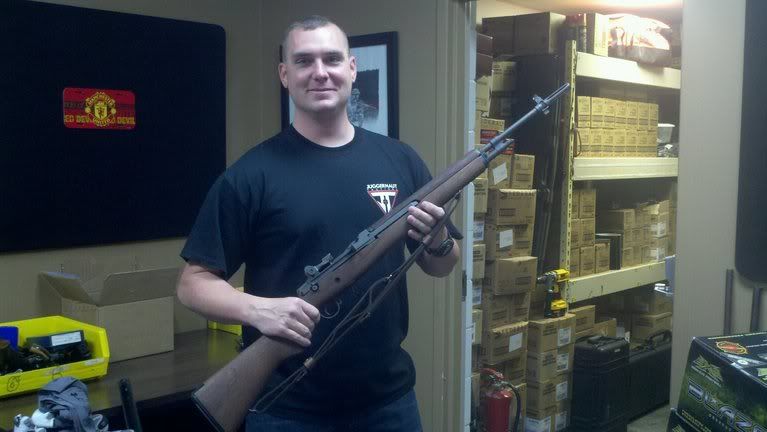 As you can see by the bottom photo, the stock looks new production...well it is. He explained to me that the stock that came with them were in very poor condition and he had to scrap them completely. He is not completely on the M14 scene like we are, so he did not know where to get USGI stocks with the cut out. So he bought several walnut SAI stocks and modified it to fit the full auto receiver. It hurts, I know....so I told him that i would find him a few USGI stock to get these thing right! Just wanted to share my exciting experience with my M14 family. Cool huh!?