I bought this rifle earlier in the week, just prior to Turkey day, so in preparation for range day today I disassembled the rifle Friday night (last night) to wipe the oil off of it and give it a once over. Everything seemed great, cleaned it, lubed it, but when re-assembling it, I could NOT get the receiver cover back on the rifle. The Galil is very similar to an AK (the receiver and internal action), so think of this process as the final step when closing the rear cover on an AK where the a cover would snap down into place and the release button would come through the hole in the back. Well, it didn't, the receiver cover would not fit back on the receiver like it should. So I brought the rifle back to where I bought it to either return it, or fix it, or send it back to the manufacturer.
Turns out, whoever installed the cover at the factory jammed it on without adjusting the rail. The rail is a two piece affair, the first piece is over the front hand guard, and the second part is on the receiver cover itself. If the rail is not adjusted properly, the receiver will not position itself to lock down like a normal AK, the rail on the receiver does not lock into the forward rail properly. Took about an hour, for the gunsmith to make it right.
The rifle uses pmags (GEN M3's), it comes with 1 20 round, but I picked up a few 10 round mags!
Here it is at the range:
Because of the delays, I only had time to zero the rifle at 25yards before I lost the light, this is 10 rounds of my 168gr boat tails...so looks promising! I started walking the bullets to the right when I started shooting more rapidly!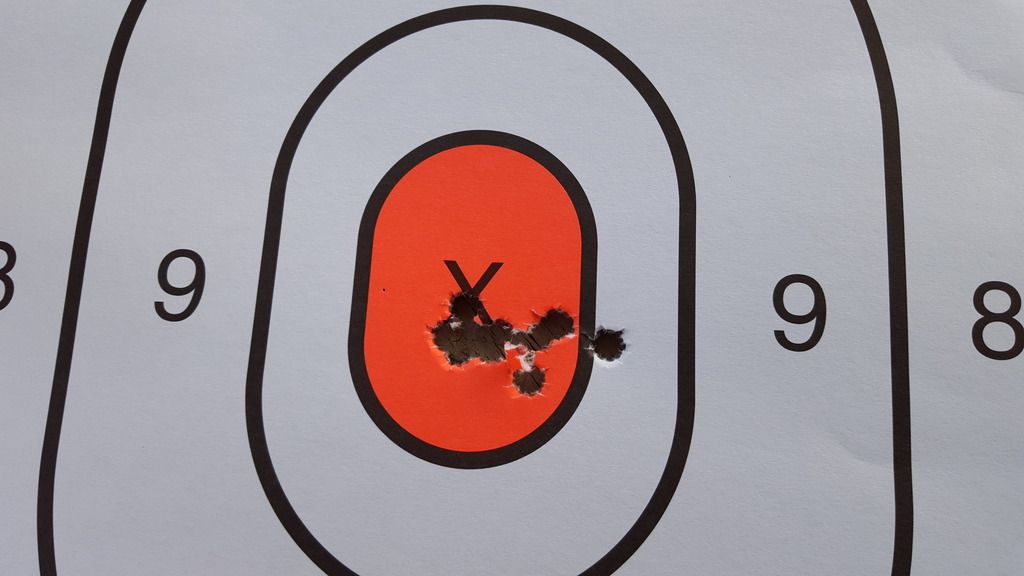 The rifle shoulders nicely, the cheek rest that comes with the rifle is great if you have the scope/red dot, but it isn't adjustable up or down, so you can't use it with the iron sights (or at least I couldn't). Recoil is negligible and over all very pleasant to shoot! Looking forward to stretching this out to 100yds to see what it can really do!