Have had my SAI M1A in the ProMag stock for a few weeks now, but finally got a chance to shoot today.
I did have to file a bit to get the trigger group to seat. It may still need some taken off, but it fits and works well for now. Almost hate to mess with it.
My SAI is wearing a 10x Super Sniper scope on a 3rd Gen SAI mount, Harris bipod, and the ProMag stock.
Mid-80's out, slight breeze. Set my target out at 100yds. Had previously sighted in the scope when rifle was wearing as Birch USGI stock, so I wasn't sure how the PM stock would affect that. Turns out I needed to go right about 8 clicks and up 2. Not too bad.
I first loaded 1 round of DAG in the mag, just in case I FUBAR'd something. I didn't.
As long as I was taking my time and shooting slow, I could put shots where I wanted them. As I sped up a little (range had no "rapid fire" rule), I noticed the shots were all stringing to the left. Still centered, but left. 99.9% sure that was me. I hope...
At one point, I noticed the bipod was loose, so I tightened it back up.
Pic of rifle;
Pic of target: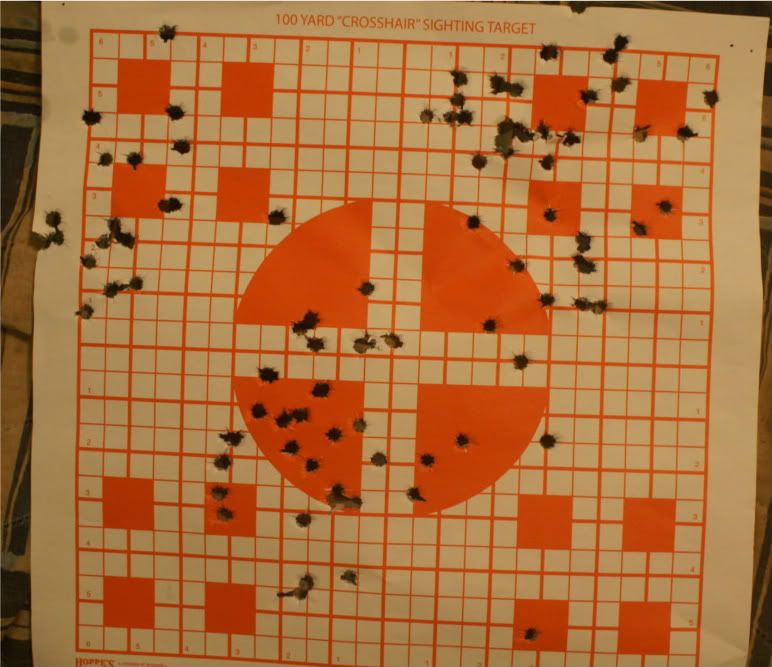 The top right target was where I noticed the drift. 2 holes in lower orange square were put there during slow, careful fire. I then moved point of aim to the center of the top right, and sped up the rate of fire a bit. By this time, I'd gone through close to 80 rounds of DAG, and the clock was ticking (pay by the hour), so I may have been the culprit.
At any rate, I like the ProMag stock. Good cheek-weld, LOP is good to go too.
IMO, well worth the 210.00 I spent on it.