I wanted to share of a pic of my SAI M1A's as hopefully the sheer craziness of having 4 rifles (that look identical..save markings..) will deter me from any further M1A purchases..lol
The rifles going left to right are:
A just after "pre ban," 85k serial range rifle which came to me while working a deal on a DSA STG58..found out it had the box, all accessories, all USGI parts (save stock and receiver of course), was a very fair deal, and had a gorgeous WRA barrel.. so "HAD" to buy it..ended up with 2 nice rifles (the STG is equally nice..lol)...It is all Winchester with a Sept 1963 barrel date and the TE measures under 1.
The second rifle I've posted a pic of before...bought it for a song earlier this year and is a true "pre ban," 48k serial range. I'm pretty sure it was unfired or very lightly fired. I had originally just planned on keeping it a hodge podge of its' USGI parts, but after buying the 85k serial rifle said "what the heck..." It is all HRA and a "keeper."
The third rifle is a very early "pre ban"...one of the first rifles SAI IL built according to SAI. It is just over 3k in serial and is all TRW.
The fourth rifle is in the 100k range and is all HRA. This is the rifle that started it all for me...my one representative example bought back in 1997 or 1998 by me...wish I had kept the box, but oh well. It was bought as a "loaded" rifle. I will say the birch stock is noticeably heavier than walnut.
It is pretty cool to see the progression in QC and parts content. It has been fun "hunting" parts but I think I'll give it a rest for now...four is definitely enough...and the spare TRW parts can stay in the drawer..lol
Greg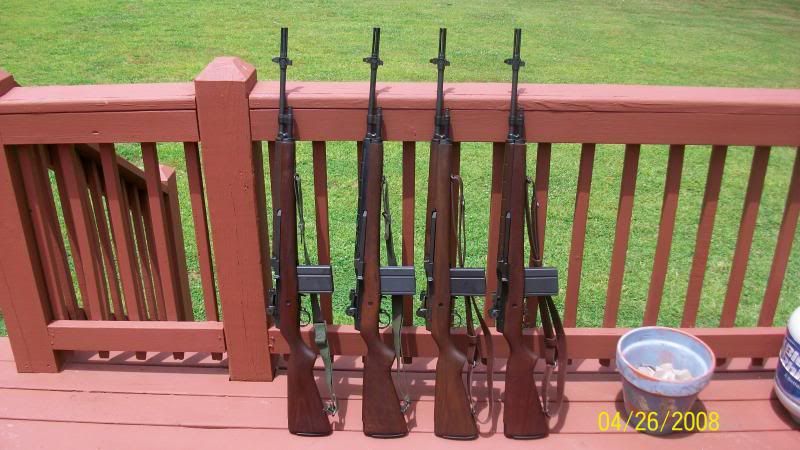 The "Winnie"
The 48k HRA
The TRW
The 100k "Birch" HRA