Hello everyone!
I've been pretty busy with work so I haven't been here lately but I thought to post up a short review of the Delta P, M1A Muzzle Adapter and JP enterprises, Tactical Compensator combination from a recent group buy arranged by 82nd Airborne. I've done a search but I didn't see an actual review about this 2 punch knock out combination, and if there is one out there well then the more the merrier I guess!
My first real rifle/first M1A build
First observations:
This is a very refined design and installation as if it were a single unit. If you were to buy these two parts separately you'd need to use a crush washer a hell of a lot patients and time to properly index the compensator to the muzzle adapter. I'm not sure about the weight but if I were to guess it weighs about 3X of a GI Bird Cage Flash Suppressor (It's been a while for me now). The work done is amazing and perfectly color matched to each other. Anytime you combine parts from different manufacturers you might end up with mismatched color tones, which may be subtle and noticeable.
Installation:
The combination unit was installed on a Heavy Profile, Stainless Steel Krieger Barrel, and this is where it got a bit difficult. I believe Krieger produces their barrels to be a bit on the larger side with their Outer Diameter. It's a very tight fit, so tight that I couldn't even get it on by hand. I was wondering if it was the guide posts (that go on the barrel's splines) inside the Delta P muzzle adapter so I carefully used a grinding stone and removed some material from the top of the posts. Unfortunately this didn't help with the fit. So I greased up the barrel and inside of the adapter with Lubriplate and carefully went to work with a dead blow hammer while the barrel was secured with my trusty barrel vise. I'm really glad that I didn't forget to place the castle nut into position because if I did I'd be in a world of pain. So I got busy tapping and turning the castle nut over and over until I felt a solid thud. If I have to take this thing off later, it's going to be a major chore!
Performance:
I haven't had the opportunity to shoot my rifle with a standard bird cage flash suppressor, but I've shot my friend's and I can tell you that the difference is amazing! My friend has the standard M1A with no cheek rest and I have my M1A LRB rifle that I built and I can tell you that when ever I shot his rifle it felt like my cousin was smacking me in the face with a whiffle bat on every shot so I had to reset my position and sight picture every time. When I shot my rifle it felt like shooting a .223! I was able to keep my sight picture and follow up shots were a breeze. I like to keep both eyes open when I shoot and I can tell you that the sight picture remains steady because the compensator does a great job with mitigating the recoil and also stabilizes the rifle. I haven't shot any other rifles with a "Compensator" but I think this is a very good quality. With this set up I can engage a 16"x16" iron target @ 250 yards with 5 rounds in 5 seconds and get a solid hit every time. Yes it's a big target and I have a 9X scope but I never shot a rifle before I built this one so cut me some slack ha ha ha.
Now when it comes to noise I really don't know what to say. Some people say that it's noticeably louder and some say it's quieter. I think it has a lot to do with where you are when the rifle is being fired. The shooter gets the good deal in this case but if anyone is sitting to the side it's louder and you can actually feel the concussion (Yes I felt it myself). Some of my friends has dubbed it as the "Buddy EF'er". Some of my friends also say it was louder when they fired my rifle but I beg to differ.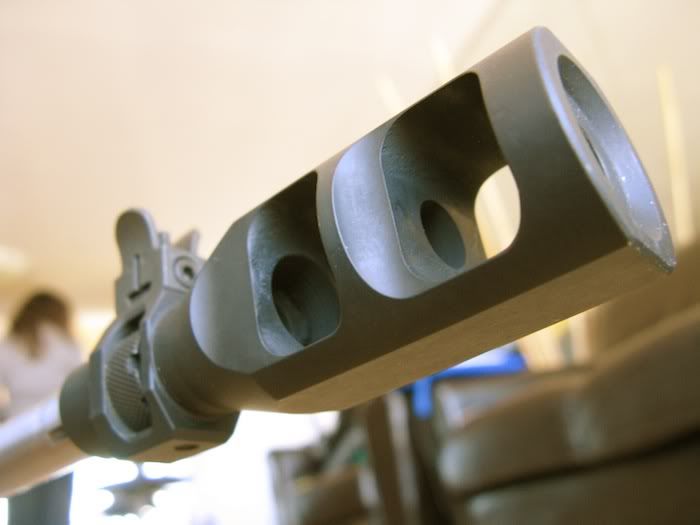 After 800 Rounds & Afterthoughts:
So here's some pictures of the unit, I can't imagine shooting without one now. If anyone out there is thinking about doing this, I say don't hesitate it's definitely worth it. Just be aware that if you have a Krieger barrel, it's going to be a tight squeeze for you or whom ever is going to install it. It still looks great but I'm wondering about the roughness in some of the pictures, and if it's normal. I think I should have picked up two instead of just one, so next time if there will ever be another group buy I'll have to get another one with a cleaning rod guide.
I forgot to mention with this all being said that no you can't install a bayonet, and I haven't fired this rifle at night so I don't know how big the flash would be.
Thanks to Warren, Lester, JP Enterprises, and Delta P
Thanks for checking this out and I hope this helps anyone out there. USNA
UPDATE:
Here's a video of my friend's daughter shooting my rifle at Koko Head shooting range Honolulu. She's 16 years old, 5' 0" and weighs about 105 lbs soaking wet after a down pour! I think the proof is in the pudding here. If you want to skip to the shooting go right to the middle of the video.
[ame]http://www.youtube.com/watch?v=4oW3B-cizAo[/ame]
Ah yes, this is also the first time she's shot a .308 and the second time she's ever gone shooting. She said that the M1A kicked to much for her liking. I would have never guessed watching her while she was firing!