Discussion Starter
·
#1
·
Aloha,
Skullboy sent me some pics of his AICS tactical stock to post for the folks in the Sniper section... but also sent me this pic today that show several different rifles with the CADPAT style pattern...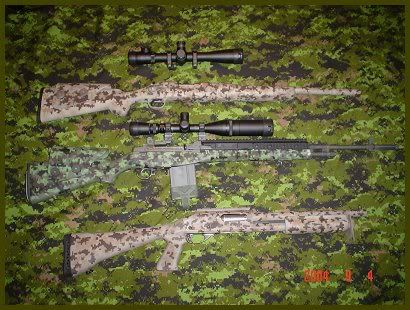 With this ensemble, I didn't know where to post it... but I thought the M14 group would be the place since his M14 type rifle is in the center! :lol:
I think I see a "Rooster33" bolt on cheek rest... but that camo really blends and I can hardly make it out.
GREAT job Skullboy! And, thank you for sharing these pictures with us... I try to get over to CGN when I get a chance to see what you're up to! :lol: Please elaborate on this post if you get a chance.
Aloha,
Tom O.