Discussion Starter
·
#1
·
Finally got my Advantage Arms 1911 conversion kit up and running, after a year of procrastination. GI1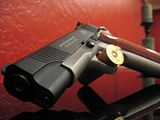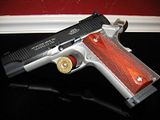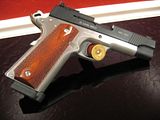 It wouldn't cycle even mini-mags with the stock mainspring so I installed the 18 lb spring that comes with the kit, and it runs great with Remington Golden Bullet (which I generally despise, but works great in this and my M11/22 subgun) and a couple others. Lots of malfunctions with Winchester and Federal.
Fun as heck to shoot! The AA kit has some advantages over other designs using aluminum slides, as it has a hardened steel insert that allows the slide stop to function. Adjustable sights, nicely finished, good magazines for about $20 per.
I recommend it! They also make them for Glocks of various sizes.
www.advantagearms.com
Video for those interested
[ame]http://www.youtube.com/watch?v=scT5lmSzcDk[/ame]
I appreciate the likes, favorites, and ad views/clicks
Rock on USN5