Discussion Starter
·
#1
·
Well, it's been over a year since I shot 600+ and that was at the gathering of guns in K-Falls. I needed to test a load (thanks Wolley!) for 600 to make sure my sights were dialed in.
Again, I showed up with a cheap yoga mat and that's about it. No shooting jacket or glove; just a collared shirt and my cotton web sling. It was about 90 degrees. I would like to have done better, but I think it was a good learning/refresher session. My first shot was in the 10-ring, 6 o'clock. Second shot; 8-ring, 6 o'clock. I only scored two X's out of all 20 rounds and somehow had 2 misses! Even with the two misses, I scored 162-2X out of 200.
For the life of me, I can't figure out how I had 2 misses! I did have a couple of things that made for a non-ideal range session though. There was some sort of bench rest competition going on and every 100yds they had these metal plates, about 10 inches long or so, that were colored green on one side and orange on the other. They would swing with the wind. One of these targets. There were streamers on the ends of them.
One of these wind plates was directly in line with my target and it clipped the lower 1/3rd of the target from my view, unless the wind was blowing right at me, in which case, the plate disappeared. We were already delayed and there were about 12 shooters in my relay. I was the only service rifle/iron sight shooter who showed up. Not wanting to be a whiney-vaginey, I just dealt with it.
Here were my scores: 10,8,X,8,9,X,10,8,10,Miss,Miss,8,9,8,10,8,9,9,9,9. Group sizes of the 18 holes was about 20 inches. I made two small sight adjustments of .5 MOA each for a total of just one MOA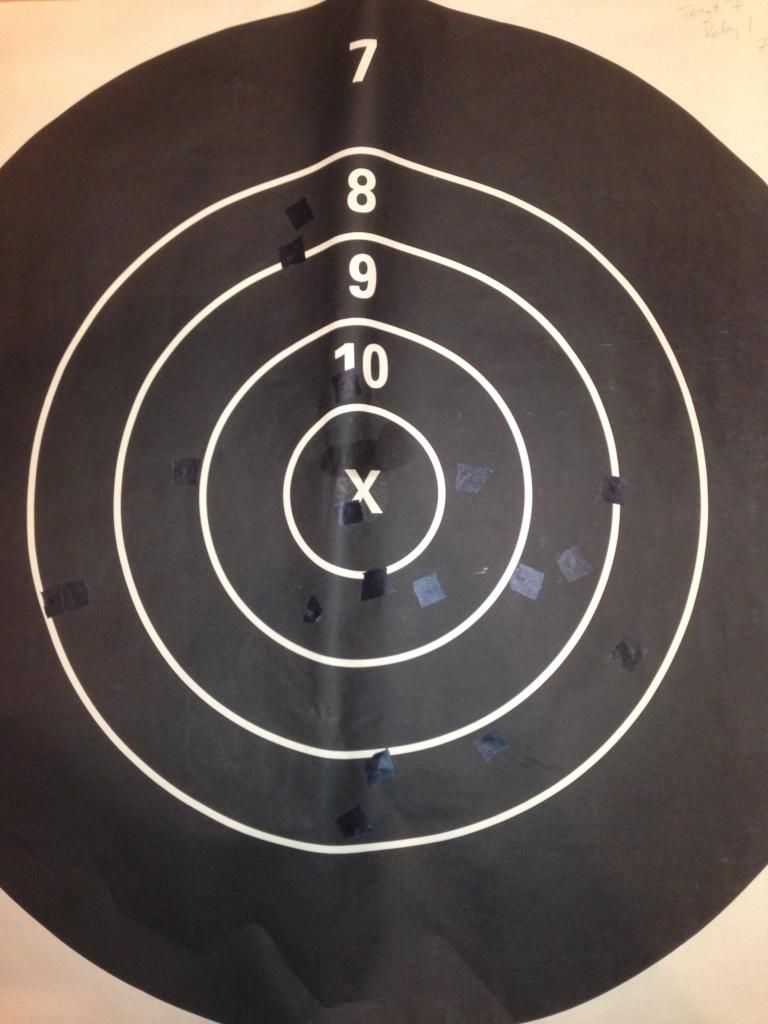 I'm happy with the load and as long as I don't score any misses during my match, I should be okay. I think I need to concentrate more on consistent head position.
It was fun!
Tony.